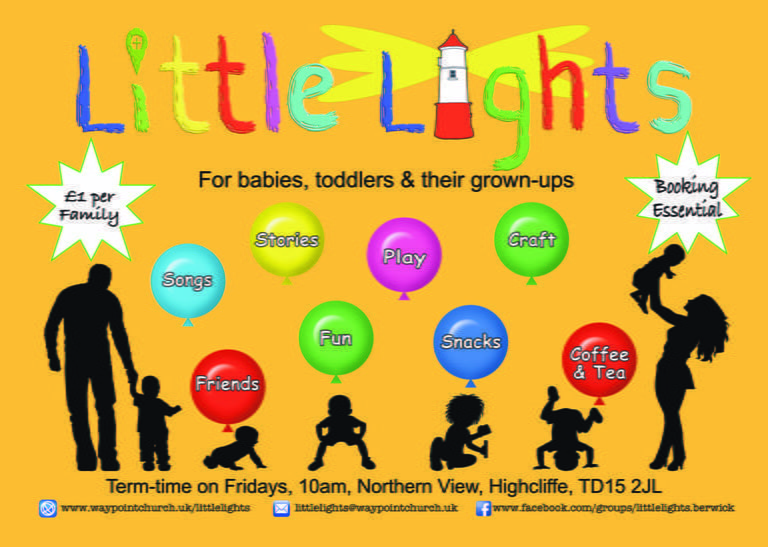 Little Lights is a welcoming and creative baby and toddler group in which you and your child can have fun, make friends and learn together through music and play. All under 5's and their parents/carers are welcome, and we recommend a £1 per child donation.
We meet at Northern View (former Jubilee Club), every Friday in term time from 10-11am. We start with singing, musical instruments and a Bible story, followed by craft, play and snack. Please arrive from 9.50am to get settled, ready for singing time.
Little Lights is a safe, stimulating and welcoming group and places are limited to a maximum of 12 carers per session.  We'd love to invite you to come and join us. To come along, you need to do two things, in the following order, to book your place.
1) Register yourself and your child so that we have your details and can email you about the session. 
2) Sign up below to book your place for yourself and your child for your chosen sessions (click on links at bottom of page). 
Once you've completed both these steps, we'll send an email with more details so that you and your little one are ready for the session.
If you sign up to come to a session, and then are not able to, please let us know by contacting us so that we can re-allocate your place. Thanks!
Lastly, once you've registered yourself and your child, you won't need to do so again, but you will need to sign up for future sessions to book your place.
If you have any questions please don't hesitate to email using the link below. You can also like our facebook group; just click on the link below.
We look forward to meeting you, and please invite your friends to join us too!
Jenny and Heather – your Little Lights team.